Therapeutic Materials & Downloads
Excercises, Behavior Charts & More​
Here you'll find a variety of helpful tools to support your therapeutic journey, including exercises, behavior charts, and other valuable resources. Take a look around and see what resonates with you – we're here to help you thrive.
Cognitive Behavioral Therapy - CBT Self-Help Book Series
I CAN DO IT - Coping skills and exercises to overcome emotions.

The I CAN DO IT series offers a collection of therapeutic self-help books designed to assist children, parents, educators, and adults in managing and overcoming a range of emotions such as anxiety, fear, anger, and sadness. Through a series of exercises and coping methods, readers can build emotional resilience and develop social skills.
With titles like Self-Esteem, Mindfulness, No More Anger, Social Skills, Kindness, Empathy & Compassion, No More Worry, and All Emotions Are OK, these books are available individually or as a set. The I CAN DO IT series provides valuable tools to help readers gain confidence and cultivate a more positive outlook on life.

Wish Away Worry, Anxiety, Anger & Fears Book Series
One night, four children from four different countries wished upon a star. They wanted to face and overcome their worry, anxiety, anger and fears. The next morning their wish came true…
This book includes therapeutic activities for children and parents to help manage their emotions and feelings.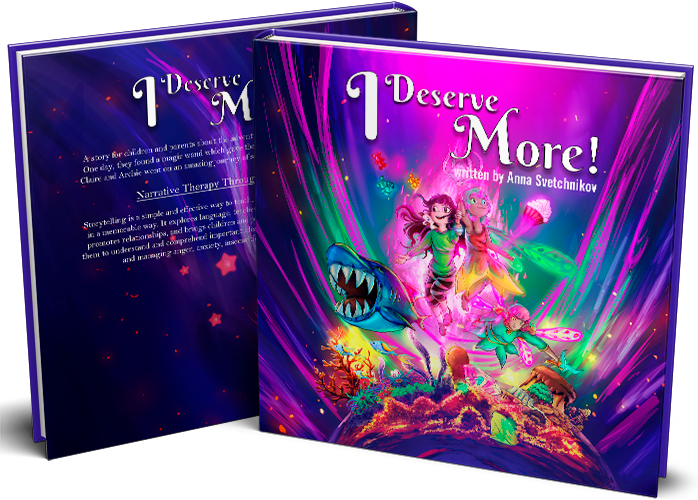 A tale about the adventures of Claire and her cat Archie.
One day, they found a magic wand which gave them a chance to change their lives. Claire and Archie went on the amazing journey of self-exploration and self-reflection.
This book utilizes Narrative Therapy. and includes exercises for children and parents to practice at home.