One day each year, fairies are able to travel to the human world. Today is that day! Join in the adventure on Read Out Loud as author Anna Svetchnikov reads I DESERVE MORE!, a magical story about learning to control your emotions, appreciate the good things in your life, and reframe your worries.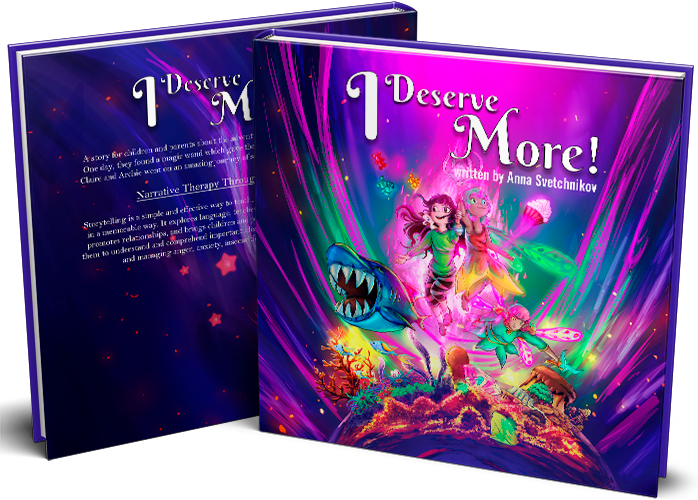 I DESERVE MORE is a story about the adventures of Claire and her cat Archie. One day, they find a magic wand that gives them the chance to change their lives. Claire and Archie go on an amazing journey of self-exploration and self-reflection.
This book is based on the concept of Narrative Therapy and includes therapeutic exercises for children and parents to practice at home.

About Anna Svetchnikov
Anna Svetchnikov is an award-winning author of children's emotions and feelings in the magical, mythical and particularly human worlds. She is as creative as she is compassionate at heart and a mother of three mighty mischievous boys who make certain she experiences no fewer than six dozen unique emotions each day, excluding any exhibited by her therapeutic clientele.
Additionally, she is a licensed Marriage and Family Therapist, a model, has yet to miss a free-throw, appeared in numerous movies, and the founder & executive director of two non-profit organizations – Positive Parenting Initiative and Longwood Care, Inc.
She resides in sunny Port St. Lucie, FL and does her best writing every minute, awake or otherwise, notepad not required as she never forgets. Anything. And reminds her husband (of 10 years, together for 20) of this skill regularly.
Anna has published more than 40 books for children and their parents. She is the recipient of numerous awards including,
2020 Stevie's Awards Bronze Medal for BOOK OF THE YEAR 2020 "Awesome Team vs CoronaVera"
2020 Reader's Favorite Five Star "Awesome Team vs CoronaVera"
2020 Mom's Choice Award "I Deserve More"
2020 Pinnacle Book Achievement Award "Good Night Apollo"
2020 Royal Dragonfly "I Can Do It: No More Worry" 

"I Deserve More" 

"Awesome Team vs CoronaVera"

"Good Night Apollo: A Story About Kindness"
2021 The National Indie Excellence Award "I Deserve More!" 

"Always Together"

2021 Hermes Creative Award "Awesome Team" series
2021 NYX Malcom Awards "Wish Away Amger"
2021 Titan Awards – Children books Author
2021 The Story Monsters Aproved award "I am Just a Baby" 

"Too Sweet" 

"The Fearless One"