Everyone has worries and feels anger sometimes. On Storymakers, author and councillor Anna Svetchnikov introduces young readers to her series of picture books which weave magic and travel with fun strategies for managing these tricky emotions.
Join Anna and Rocco for some games which use deep breathing and getting in touch with the five senses as tools for helping children feel calm and in control of their emotions.

Wish Away Worry, Anxiety, Anger & Fears Book Series
One night, four children from four different countries wished upon a star. They wanted to face and overcome their worry, anxiety, anger and fears. The next morning their wish came true…
This book includes therapeutic activities for children and parents to help manage their emotions and feelings.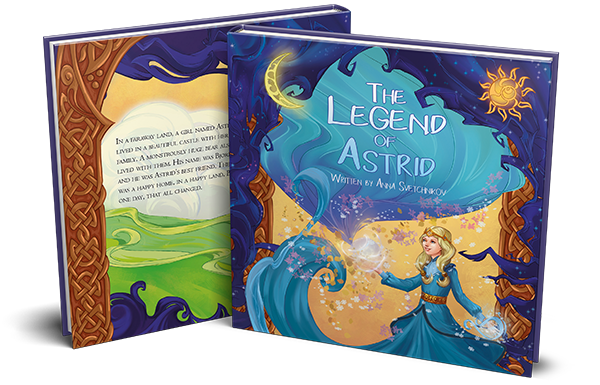 In a faraway land, a girl named Astrid lived in a beautiful castle with her family. A monstrously huge bear also lived with them. His name was Bjorn, and he was Astrid's best friend. Theirs was a happy home, in a happy land.
But one day, that all changed.
This book utilizes Narrative Therapy and includes exercises for children and parents to practice at home.

About Anna Svetchnikov
Anna Svetchnikov is an award-winning author of children's emotions and feelings in the magical, mythical and particularly human worlds. She is as creative as she is compassionate at heart and a mother of three mighty mischievous boys who make certain she experiences no fewer than six dozen unique emotions each day, excluding any exhibited by her therapeutic clientele.
Additionally, she is a licensed Marriage and Family Therapist, a model, has yet to miss a free-throw, appeared in numerous movies, and the founder & executive director of two non-profit organizations – Positive Parenting Initiative and Longwood Care, Inc.
She resides in sunny Port St. Lucie, FL and does her best writing every minute, awake or otherwise, notepad not required as she never forgets. Anything. And reminds her husband (of 10 years, together for 20) of this skill regularly.
Anna has published more than 40 books for children and their parents. She is the recipient of numerous awards including,
2020 Stevie's Awards Bronze Medal for BOOK OF THE YEAR 2020 "Awesome Team vs CoronaVera"
2020 Reader's Favorite Five Star "Awesome Team vs CoronaVera"
2020 Mom's Choice Award "I Deserve More"
2020 Pinnacle Book Achievement Award "Good Night Apollo"
2020 Royal Dragonfly "I Can Do It: No More Worry" 

"I Deserve More" 

"Awesome Team vs CoronaVera"

"Good Night Apollo: A Story About Kindness"
2021 The National Indie Excellence Award "I Deserve More!" 

"Always Together"

2021 Hermes Creative Award "Awesome Team" series
2021 NYX Malcom Awards "Wish Away Amger"
2021 Titan Awards – Children books Author
2021 The Story Monsters Aproved award "I am Just a Baby" 

"Too Sweet" 

"The Fearless One"