Anna Svetchnikov, LMFT, MS, LSWA, Founder and Executive Director of Longwood Care, Inc, social worker and author, was recently selected as Top Licensed Marriage & Family Therapist of the Year for 2021 by the International Association of Top Professionals (IAOTP)
Anna Svetchnikov, LMFT, MS, LSWA, Founder and Executive Director of Longwood Care, Inc, social worker and author, was recently selected as Top Licensed Marriage & Family Therapist of the Year for 2021 by the International Association of Top Professionals (IAOTP) for her outstanding leadership, dedication and commitment to the mental healthcare industry.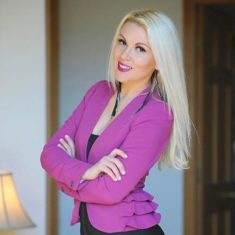 While inclusion with the International Association of Top Professionals is an honor in itself, as only a few members in each discipline are chosen for this distinction. These special honorees are distinguished based on their professional accomplishments, academic achievements, leadership abilities, longevity in the field, other affiliations and contributions to their communities. All honorees are invited to attend the IAOTP's annual award gala at the end of this year for a night to honor their achievements.
With more than a decade of experience as a Ms. Svetchnikov has certainly proven herself as extraordinary and she is an expert in the field of mental healthcare. Ms. Svetchnikov is a talented, results-driven leader who has demonstrated success throughout her entire career. She is the Founder and Executive Director of Longwood Care Inc., which is a registered 501©3 non-profit organization that serves the communities of Lynnfield and Danvers Massachusetts.
Through Longwood Care Inc., Ms. Svetchnikov provides in-office (extended weekday and weekend hours are available) outpatient therapy with a primary focus on trauma related crisis intervention services to multi-stress, high-need individuals, couples and families as well as working with children with special needs and children's behavioral issues.
Ms. Svetchnikov's areas of therapeutic expertise and application include, Positive Parenting Initiative, Behavioral Therapy (Cognitive Behavioral Therapy and Dialectical Behavioral Therapy), Solution Focused Therapy, Systemic Therapy, and the Solution-Focused Relational Approach to provide psychotherapy and counseling services to couples, families, individuals and groups. Moreover, she has experience in treating ACOA/co-dependency, grief counseling, addictions, new immigrants, nursing home patients, PTSD, physical abuse and physical disabilities. Beyond her specialties, she is tri-lingual and effectively communicates in English, Russian and Ukrainian.
Before Ms. Svetchnikov began her professional career path, she earned her Bachelor of Science in Psychology (2010) and earned her Master's Degree in Marriage and Family Therapy (2014) from the University of Massachusetts. She has gained experience through internships and residencies over the course of her entire career. Ms. Svetchnikov maintains professional affiliations and memberships with the American Association of Marriage and Family Therapists and the New England Association for Family and Systemic Therapies.
Her prior positions as a resident, therapist with a resident, partial treatment knowledge and intensive outpatient treatment centers have been the foundation of her creating her success. Throughout New England, she has previously worked at the Walden Behavioral Center, The Home for Little Wanders, the Boston Children's Hospital research department and numerous adult day-care facilities and in-home therapy centers.
Throughout her illustrious career, Ms. Svetchnikov has received many awards, accolades and was recognized in numerous publications and magazines worldwide for her outstanding roles and commitment to mental healthcare. This year she will be considered for a Front Cover feature in T.I.P. (Top Industry Professional) Magazine and will be honored as the Top Licensed Marriage & Family Therapist of the Year by the International Association of Top Professionals (IAOTP). For 2022 Ms. Svetchnikov will be considered for the Empowered Woman of the Year Award given by IAOTP.
In addition to her professional achievements, Ms. Svetchnikov received the President's Lifetime Achievement Award from President Barack Obama's administration, an Official Citation from Senator Joseph Boncore, and five President's Achievement Awards for community service. The Boston Business Journal listed her among the top 40 under 40, she was named as the Business Woman of the Year by the Lynn Chamber of Commerce and she also received the Bronze Medal for her recognition as the Female Executive of the Year.
Furthermore, Ms. Svetchnikov is a sought-after speaker at conventions and conferences nationwide. She covers topics on parenting, behavior management and couples' issues. As an accomplished author, she is working to make her books, videos and other materials available to those in need. She has published and received awards for more than 40 different therapeutic books for children and parents. She also received 12 excellence awards for her literary works.
Stephanie Cirami, President of IAOTP stated, "Choosing Ms. Svetchnikov for this honor was an easy decision for our panel to make.  She has tremendous foresight, extensive knowledge and is brilliant at what she does. IAOTP is truly honored to have her as part of our network of professionals. We are looking forward to meeting her at the Annual Awards Gala."
Looking back, Ms. Svetchnikov attributes her success to her perseverance, her family and friends and her outstanding integrity in all of her professional endeavors. When not working, she enjoys spending time with her family and friends and traveling.  For the future, Ms. Svetchnikov will continue making a positive difference in the lives of her patients and plans to continue providing the ultimate mental healthcare through Longwood Care Inc.
For more information on Ms. Svetchnikov please visit:  www.longwoodcare.org
About IAOTP
The International Association of Top Professionals (IAOTP) is an international boutique networking organization that handpicks the world's finest, most prestigious top professionals from different industries.  These top professionals are given an opportunity to collaborate, share their ideas, be keynote speakers, and to help influence others in their fields. This organization is not a membership that anyone can join.  You have to be asked by the President or be nominated by a distinguished honorary member after a brief interview.
IAOTP's experts have given thousands of top prestigious professionals around the world, the recognition and credibility that they deserve and have helped in building their branding empires.  IAOTP prides itself to be a one of a kind boutique networking organization that hand picks only the best of the best and creates a networking platform that connects and brings these top professionals to one place.
For More information on IAOTP please visit:   www.iaotp.com